Discount Rate – don't be accidentally liable
Liability insurance has never been more important. Changes to the Discount Rate in 2017 made by the Lord Chancellor mean higher compensation payments for claims in cases of personal accident or fatal accident. These increases have the potential to exceed the public liability cover most businesses have in place.
Given the increased risk that leisure operators face, there is a higher chance that they could be left paying the balance of the claim. With this in mind, our current advice is that companies in this sector have a minimum of £10 million Public Liability cover, but £20 million cover is now being more regularly purchased.
Why are injury claims awards going up?
The Discount Rate, also known as the "Ogden Rate" is used as the basis when calculating compensation for future: pain and suffering, legal and professional fees, loss of earnings, care costs and other financial support for activities curtailed by the injury e.g. driving.
When the courts are working out a payment, the estimated amount that the claimant will lose each year is adjusted depending on age and estimated life expectancy. The courts also assume that the lump sum is invested in low risk investments to earn interest. This is where the Discount Rate comes in. The Rate had been set at 2.5% discount for many years but the latest change was a reduction to minus 0.75%.  This means the compensation payment will be increased, in some cases by millions of pounds, to allow for the assumed negative return on investment.
How much could compensation payments increase by?
The short answer is a lot, and the following table demonstrates the scale. The larger concern that leisure operators need to consider, especially those with multi person rides, is that these examples are per person.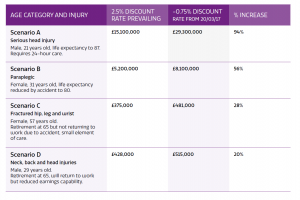 What do I need to do?
The first thing is to get your insurance documents out and see how much cover you have for Public Liability. Then you need to decide if that's enough to cover a major accident at your venue.
If it is, don't panic, you don't have to pay for a completely new policy.
There are 2 other options to consider, and neither will necessarily cost the earth.
Extending your existing policy to increase the maximum limit (most primary insurers will go to £10m on request)
Purchasing an excess layer policy. An excess layer is additional insurance to increase liability cover e.g. from £5 million to £10 million. Or £10m to £20m (you can go all the way to £100m)
Here to help you
Lockyers are a leading, independent insurance broker with an expert knowledge of insuring the leisure industry. We will review your risks, helping get you the right protection at the right price.  As well as liability cover, specialist insurance can be designed for your attraction.
Should the worst happen Lockyers have a dedicated claims manager helping clients get back to normal as soon as possible. For practical advice Lockyers can also offer the services of an onsite claims assessor.
Lockyers are members of the National Piers Society, BALPPA, BACTA and IAAPA.