Customer Champion of the Year
2020 will be a year to remember for Lockyers in many ways. Despite the uncertain and difficult year that everyone had to face, the team at Lockyers are proud to be the recipients of no less than 4 industry awards.
The coveted Insurance Times Customer Champion of the Year – Broker and UK Broker COVID-19 Response Awards highlight the outstanding achievement of several members of the Lockyers team, facilitating the repatriation of a critically ill individual from Africa back to the UK in the most challenging of times. The team had to deal with international organisations plus UK insurers at the same time as lockdown and remote working came into force.
In addition, Lockyers has been listed as a UK Top Insurance Workplace by Insurance Business https://www.insurancebusinessmag.com/uk/special-reports/top-insurance-workplaces-2020-241605.aspx  Inclusion in the list required proof of our company's commitment to employee development and a healthy work-life balance. Employees also had the opportunity to comment on Lockyers via a survey that included rating benefits, compensation and company culture.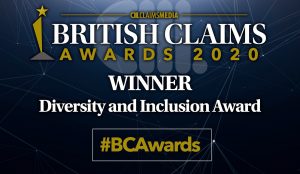 Lockyers commitment to employees has also been recognised when Lockyers were announced as the winner of the British Claims Awards – Diversity and Inclusion category. Our team is the heart of our business. Lockyers inclusive culture means that we can search the widest pool of people for experience when recruiting. The insurance industry has traditionally been seen as a white, male dominated, profession. At Lockyers, our approach is to always find the "right person" irrespective of age, disability, gender, sexual orientation, race or religion.
If we can advise on your commercial insurance in anyway please get in touch with the award winning team at Lockyers – we're here to help.